Excerpted from The Power of Intention, pages 120-121.
We all live on a stage where many infinities gather.
Just take a look outside tonight and contemplate the infinity of space. There are stars so distant from you that they're measured in the distance that light travels in an Earthly year. Beyond those stars that you can see are endless galaxies that stretch out into something we call eternity.
Indeed, the space that you occupy is infinite. Its vastness is too huge for us to see. We're in an infinite, never-ending, never-beginning universe. Continue Reading
I'm going to give you 12 very specific tools for simplifying your life. Begin using them today if you're serious about hearing that ultimate call to inspiration.
More
You come into this world with a dharma, a life purpose, choices to make—how do you know when you are doing what you are here to do?
More
Wayne's Last Book — Available Now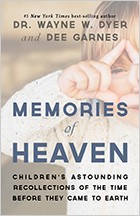 Hardcover
$22.99 $20.69 (save 10%)
More Details